Originally posted this tutorial to my tumblr | if you have any questions, you can ask on our fb page: Cool By Proxy Productions , or shoot us an email!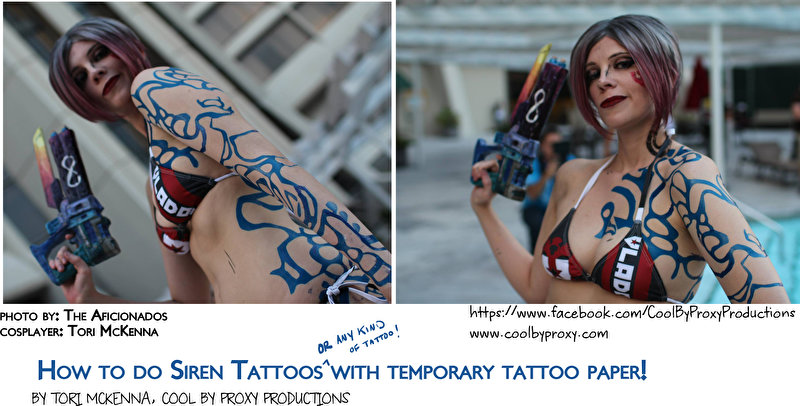 This is the method I used for my Pool Party Maya Tattoos & Rhys' Neck tattoo at Dragon Con 2015 (I've also used it again for Maya's hip tattoo at PAX East 2016, and Scarlett & Janey's assorted tattoos). A lot of people were asking about them so I figured I'd make a little tutorial- it's a pretty easy method, it's just time consuming (as with all Siren tattoo methods). It's really a matter of what you want to spend your time on- messy body paint, or carefully cutting out and applying temporary tattoos!
Costumes For Sale

Once again Dragon Con has come and gone. If you've just discovered us (likely due to images or activities at Dragon Con) then welcome! We'll be filling out our characters pages with pictures from the convention as they come in, but if you want to stay completely up to date then Facebook is going to be your best bet!
We'll likely be taking it easy over the next few months as we unwind, focus on the holidays, and then gear up for PAX South!
Our page is a little quiet right now because we're preparing to move across the country! That means we're packing up all stuff and getting rid of older costumes/props we don't need (check out our store if you're interested!).

We'll be moving to Austin, TX at the end of the month! We're sad to be leaving the Boston area and all our awesome cosplay & photography friends but we're also excited to see what new adventure Austin may have in store for us!
Solas - Fossilized Jawbone

Wrote up a quick tutorial/technique guide to making a new bone (say, I dunno, a canid's jawbone :P ) look old or fossilized. I used this technique for my own prop jawbone for my Lady Solas cosplay after much searching on leatherworking forums (it's apparently a technique used by knife makers who use bone for the handle a lot). It was pretty easy and actually cheaper/faster than sculpting it and painting it. I already had most of the supplies (leather stain, applicators, varnish, etc) since we do a lot of leather working projects.
Welcome to Cool By Proxy Productions! We're a couple in and out of cosplay that makes incredible costumes and props in our free time.